Besides your name, address, Social Security number, and if you want to donate to the presidential election campaign (who really even looks at that?) the first thing to mark on the 1040 Individual Income tax return is filing status.  What is filing status? What are the tax differences between the each one? How do I decide which one to mark? Enter Part 1 of a 3 part blogpost on income tax filing status–read only if you really care about the topic or need something to help you fall asleep at night!
Filing status is a category that determines what type of tax return file and the tax rates, standard deduction, and other tax laws that apply to your return.  For most, filing status is a straight forward decision between the common ones of Single, Married filing joint (MFJ), and Head of Household (HOH) and closely resembles your marital status.  This isn't like Facebook where the world will see if you're in a relationship or not but does adjust the bottom line of tax liability on your tax return.
The first status discussed here is Single.  The basic question is, as of the last day of the tax year (December 31) are you married?  Another, do you have kids?  If your answer to both is, it's complicated, follow up with parts 2 and 3 of this series.  If you are not married and don't have kids, mark Single on the tax return.  If you are divorced or legally separated with no kids, the Single filing status is for you too. If your status changed during the year, what counts is what that status was on December 31 as there are no part-year returns for MFJ and Single.
For 2018 the standard deduction for Single is $12,000 and with the new tax law change, there are no exemptions as an additional deduction.  The tax rates are: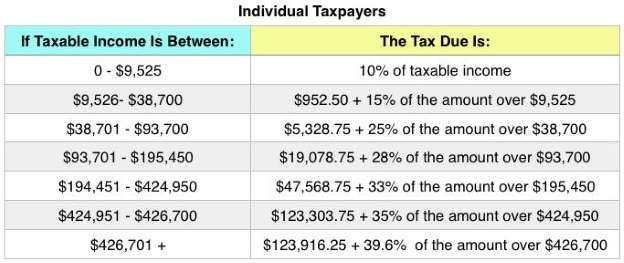 More questions about filing status?  Continue on to Parts 2 & 3.