Thanks for hanging in there for filing status part 3 of 3!  This part deals with Head of Household (HOH) which at face value should be another simple filing status to understand but from my experience can get a little hairy.  Let's go back to the question asked for the other two main statuses we've talked about–as of December 31 of the tax year in question, were you married?  If the answer is yes and you weren't legally separated or living apart for more than half the year, your filing options are MFJ or MFS.  If the answer is no and you had no dependents/kids then your filing status is single.  If your answer is no but you do have kids and/or dependents then it's time to take a look at the Head of Household status to see if you qualify.
The big three bullet points we'll discuss at length for the HOH status:
Considered unmarried for the tax year
Pay for more than half the cost of keeping up your home
Your home was the main home for a qualifying person
Considered Unmarried
Even if you're technically married on December of the tax year, you might be considered unmarried if all of the following are true:
You are not filing a joint return with your spouse
Your spouse did not live with you the last six months of the year
You paid more than half the cost of keeping up your home
Your home was the main home for a child, stepchild, or foster child for over half the year
You must be able to claim the child as a dependent
Example time: Mary and her husband Bob are separated (not legally) as they go through their divorce.  Bob moved out of the family home in May.  Bob and Mary's 10 year old son continues to live in the home with Mary.  Mary works full-time and pays the mortgage and utilities and can claim her son as a dependent.  As long as Mary and Bob file separate tax returns, Mary can file as Head of Household and Bob can file as single.  If Bob didn't move out until October then Bob and Mary would either have to file MFJ or MFS.
Keeping up a Home
What costs go into figuring if you paid more than half of them?
Mortgage interest and real estate taxes or Rent
Utilities
Insurance
Food
Repairs & Maintenance
Other Household expenses
Items such as healthcare, transportation, clothing, medical care do NOT go into this calculation.  Money from public assistance funds like TANF do not count as your contribution to living expenses.  If there are multiple people living in the same home, as long as you contribute more than any other person you qualify for "keeping up a home" for HOH status.
Example time: Tammy is single and lives with her daughter age 4 (and can claim her as a dependent) and two other roommates.  The total household expenses are $2,000 and Tammy contributes $800 of expenses while both roommate 1 and 2 contribute $600 each.  Tammy is eligible to file HOH since she contributes a greater portion than her roommates.
Example 2: Richard lives in the basement of his parents home with his son age 10.  He buys the groceries for the house and pays for all of his son's expenses.  While he may be able to claim his son as a dependent, he doesn't qualify for HOH status because he does not pay enough for the household costs.
Qualifying Person
This topic really could be a doctorate thesis as there are many different rules about who qualifies and who doesn't.  The short list of a qualifying person:
A qualifying child (ex: son, daughter, grandchild) who is single
A qualifying child who is married but you can claim them as a dependent
Your mother or father if you can claim them as a dependent
A qualifying relative who is related to you and lived with you over half the year and you can claim the exemption for them (ex: son, daughter, son-in-law, daughter-in-law, aunt or uncle by blood, grandparent, brother, sister, etc.)
All of the above must have lived with you over half the year to be your qualifying except your mother or father or child who is a full-time student under the age of 24.  For both of these, you must have provided over half their household expenses.
Example time: Ed lives with his 19 year old daughter who works part-time and goes to school part-time.  She makes $3,000/year and Ed pays all of her expenses so she can save up to live on her own one day.  Ed's daughter qualifies as a qualifying person (relative).
Example 2: Simon & Ruth divorced in 2016. Ruth has custody of their boys (ages 6 & 8) 3/4 time, pays for over half the expenses of her apartment, and according to the divorce decree she gets the tax exemption for the boys in even years.  For tax year 2017 Ruth can claim HOH with the boys as her qualifying person (child). Simon can claim them as a dependent but cannot claim HOH since they did not live with him over half the year.  If the custody were closer to 50/50 it would be a good idea to consult with your tax advisor.
Example 3: Richard & Katy are boyfriend and girlfriend and live together.  Katy has no income and Richard works and pays the bills of their apartment and most of Katy's expenses. Katy is not a qualifying relative since she is not related to Richard so he cannot file HOH.
There are more special rules regarding the half the year requirement so if you feel like you have a special situation, consult your tax advisor as I don't have the space here for that mentioned thesis.
Tax Consequences
Is your head spinning yet to see if you qualify for HOH status? If you do, the tax benefits are higher standard deduction and slightly lower tax brackets than single status.  The standard deduction for 2018 is $18,000 with no deductions for exemptions under the new tax law. The tax rates are: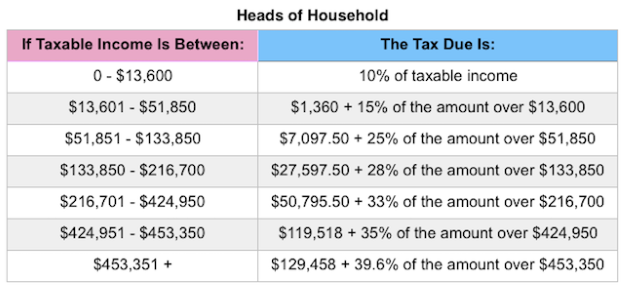 As always, if you have questions about this filing status, please contact your tax professional.